Wedding Day Photography and Videography Timeline Planning
March 1, 2023
How to plan your wedding photography timeline
Planning your wedding can be both exciting and overwhelming. There are so many details to consider! My goal as your photographer (and/or videographer!) is for you to enjoy your day to the fullest while we capture amazing memories. This includes planning in advance to ensure that your day is as stress free as possible. I like to have a solid plan, while also being open to spontaneity or last-minute changes. Life happens, even on wedding days! With a good plan in place, we can roll with the punches as they come with no sweat.

Some couples may have a planner or coordinator to help them manage the timeline of events. Others may be on their own or with the help of a close family member or friend. In any situation, I'm here to help you plan your day hour-by-hour. After over a decade of shooting weddings, I've learned some tricks of the trade that will take some weight off your shoulders.

When you book with me, I'm here to guide you through the entire wedding planning process. I'll send you a pre-wedding questionnaire about two months before your date to help me gather the information I need to best capture your day. After that, we'll have our final video call to go through all the details of your day. I'm always available in between to help with any questions you may have.

Below is a sample wedding day timeline from a real wedding. This wedding took place in May, had the ceremony and reception on site, and the couple chose a first look. Of course, each wedding is unique and I encourage every couple to do what's best for them. I will always make recommendations, but I don't believe in telling you what to do for your own wedding. I also love it when couples choose to mix it up and break tradition. I'm simply here to guide you and support you throughout your day so that it is meaningful to you.

A note on first looks

As a photographer, I generally recommend a first look because it allows us more time for portraits before the ceremony. With a first look, you will typically be able to enjoy more of your cocktail hour, instead of using that time for photos. In my experience, doing a first look doesn't take away from the moment of walking down the aisle. Instead, it adds even more time for you and your new spouse to be together and enjoy your day. That being said, I will never pressure you do to a first look if you don't want to! We will be able to capture amazing photos with or without it.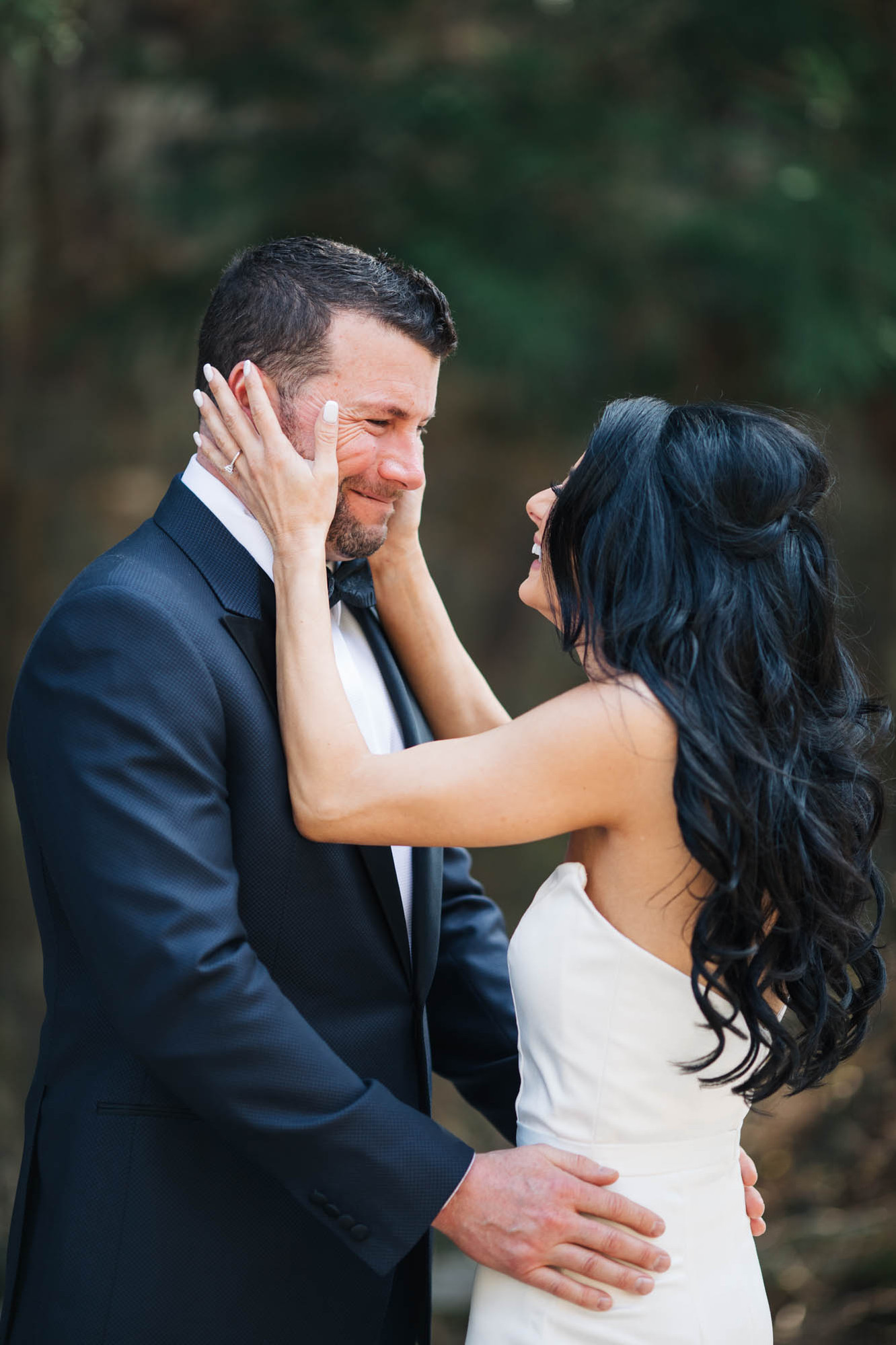 Here is an example of a real wedding day timeline with some additional details on each part of the day:
1:30-2:30pm: Girls getting ready

Ideally, hair and makeup is wrapping up as photo and video arrives. We start out shooting your details like rings, flowers, invitations, perfume, jewelry, dress, shoes, etc. Then we capture you and your crew hanging out, before and after getting changed into your dresses. We'll do a mix of portraits and candids to help you feel relaxed and ready to go into your day. It's best to have your wedding suite tidied up before we arrive so that there is minimal clutter.
2:30-3:00pm: Guys getting ready

If you have them, we'll capture details like your cologne, suit, boutonniere, tie, shoes, etc. You and your crew should be mostly dressed when we arrive, and we'll do the finishing touches together. We'll capture you adding your cufflinks, tie, shoes, etc. We'll even help you all attach your boutonnieres! A mix of portraits and candids will perfectly capture the vibe heading into the wedding day. Again, a quick tidy before we arrive will help your photos and videos look the best.
3:00-4:30pm: First look and portraits
After scouting the perfect location, we'll begin with just you and your partner (although some couples choose to have the wedding party watch their first look). We'll capture your first look as well as some portraits of the two of you, both together and individually. Next, we'll bring in the wedding party for group photos along with any immediate family members who may be in the wedding. This is one of my favorite parts of the day!
4:30-5:00pm: Prep for ceremony
I recommend having at least half an hour before your ceremony to freshen up and relax after photos. This also gives us the time we need to set up all our equipment, including audio equipment and tripods for video.
5:00-5:30pm: Ceremony
Most wedding ceremonies tend to be about half an hour long. We'll review any special details you may have planned during your ceremony to ensure we capture all the real emotions.
5:30-6:00pm: Family portraits
After your ceremony, it's best to tell your extended family to stick around for photos before heading to cocktail hour. We'll work together to create a list of groupings to make the process as smooth as possible. As long as everyone is in the right place at the right time, we can do all your formal photos easily in 30 minutes!
5:30-6:30pm: Cocktail hour
The hard part is over! You get to greet your guests and mingle at cocktail hour. We'll use this time to set up our lighting and audio equipment for the reception as well as capture some candids and details during cocktail.
6:30pm: Reception begins
At the reception, we typically coordinate with your DJ or MC on what the exact order of events will be so that we don't miss a thing. Here's an example of how a reception timeline may go:
Introductions of the wedding party and couple
Couple's first dance
Parent dances
Speeches / Toasts

7:00-7:30pm: Dinner
We truly appreciate the chance to eat a real meal and get off our feet for a few minutes. If we are served while everyone else is eating, we won't miss any moments and we'll be ready to go again as you and your guests are finishing your meals. Some couples will also do a silent/private cake cutting right after dinner.
7:30-8:00pm: Golden hour portraits
Sunset time varies with the seasons, but I always like to plan for golden hour wherever possible. It won't take long for us to sneak away from the reception and take advantage of the perfect sunset lighting.
8:00-9:30pm: Open dancing
Party time! This is all candids and time for us to capture you and your guests having a blast. Whether you have a DJ or a live band, we love to be there on the dance floor with you.
9:30pm: Photo and video leaves
We say goodbye and thank you for sharing your big day with us! You get to continue partying all night long!
I hope this example is helpful as you plan your wedding day timeline! Weddings come in all forms and this is just one idea of how the day might be structured. Working together, we can plan your day in a way that honors your vision and traditions while keeping everything as stress-free as possible.