BELLEZZA PUGLIESE // LA DOLCE VITA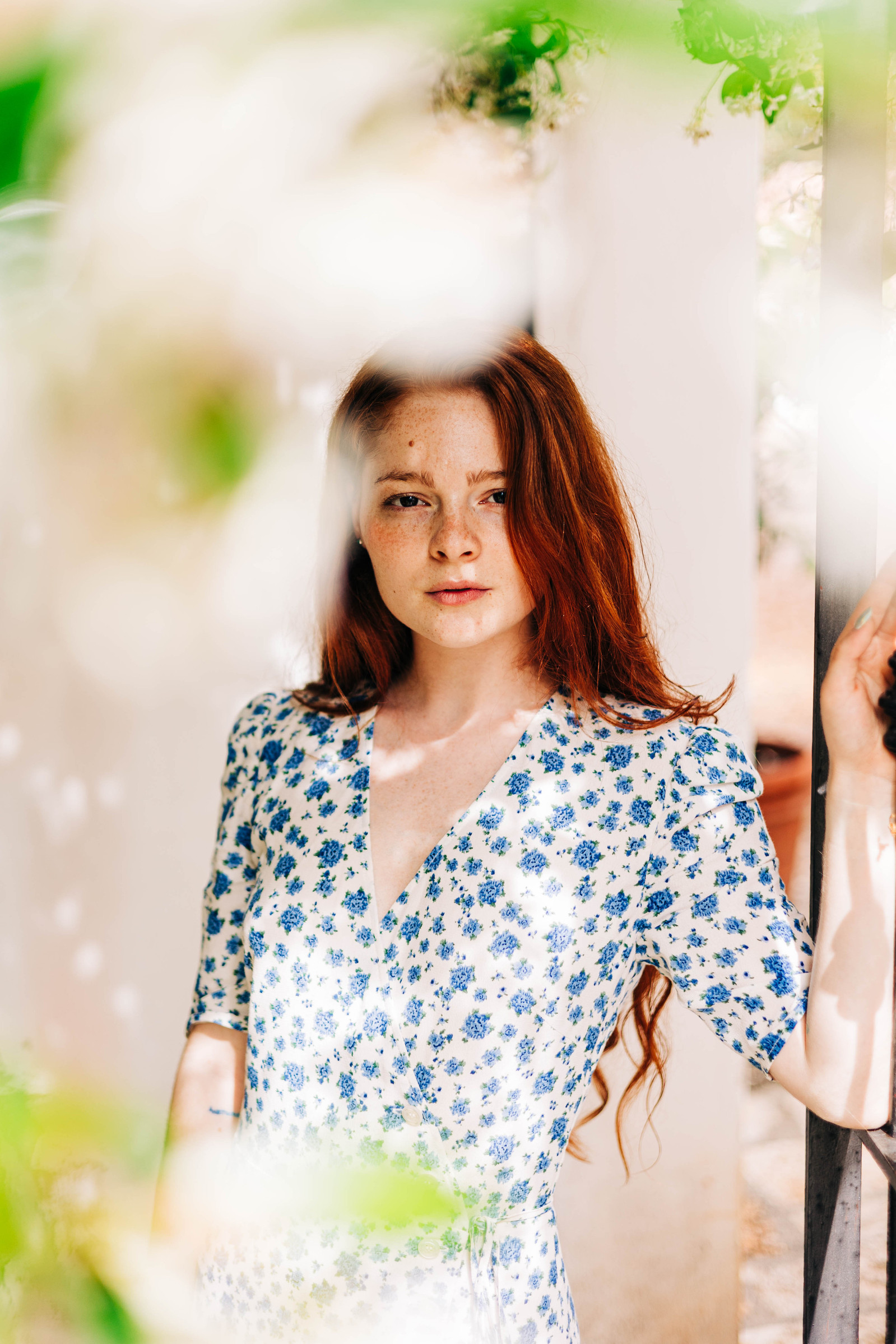 Join me on a visual journey as I revisit a mesmerizing photoshoot that unfolded in the heart of southern Italy's picturesque Puglia region. This shoot was led by Women Photo Tours with photographers Amanda Bjorn and Maika Lindsay, starring the stunning model Giada Zonno. Allow me to transport you to a world of fashion, elegance, and rustic charm. From the tranquil villa interiors to the vibrant olive groves and the lush garden poolside, this photoshoot is a testament to the timeless allure of Puglia's beauty and traditions.
Like what you see? Buy fine art prints like these at my shop.
Graceful Florals Inside the Villa
Our enchanting model set the tone for this photoshoot by donning a captivating blue and white floral dress. The villa's grand staircase served as the perfect backdrop, its marble steps echoing the elegance of her attire. The interplay of light and shadow in the villa's interior created a dramatic effect, emphasizing the dress's intricate patterns and Giada's fiery red hair.
Rustic Elegance Amongst Olive Groves
We embraced the rustic charm of Puglia by shooting amidst the serene olive groves. The bold contrast of the black cowboy boots against the vibrant greenery added an edge to the otherwise dreamy setting, creating a look that seamlessly blended fashion and nature. This scene was perfectly fitting because Giada actually runs an olive grove in Puglia with her family! Check out her brand called Figli Zonno.
Vintage Allure Inside the Villa
Stepping back into the villa, our model embodied vintage allure. Dressed in delicate white lace shorts and a matching vest, she epitomized elegance and sophistication. Her outfit was completed with pristine white gloves, adding a touch of mystery to the scenes captured within the villa's walls. The play of light and shadow once again accentuated the intricate details of her ensemble. This scene reminded me of a princess getting ready for her wedding day in the morning!
Poolside Glamour Amidst a Floral Paradise
As the sun dipped below the horizon, our photoshoot ventured to the villa's lush garden, where a sparkling pool awaited. Our model dazzled in a long sheer dress with just a bikini underneath. Surrounded by a riot of colorful flowers, she embodied glamour and grace, creating a mesmerizing juxtaposition of her ethereal attire against the natural beauty of the garden.
This fashion photoshoot in Puglia, Italy, was a testament to the timelessness and versatility of fashion photography. From the exquisite interiors of the villa to the rustic charm of the olive groves and the breathtaking garden poolside, each scene captured the essence of elegance and beauty. I hope you enjoyed this visual journey as much as we did, and that it has inspired you to explore the boundless possibilities of fashion photography.

If you're seeking to create your own unforgettable fashion photoshoot in a picturesque location like Puglia, contact me!